Web Presence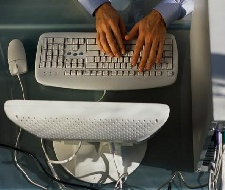 Here at Compbuilding we understand that all companies must have a web presence. A Web Presence is an online strategy that presents a companies products, services and identity to a broader range of customers than can be effectively reached offline. Companies without a web presence are doomed to fail. A Web Presence is essential for the professional appearance and viability of any company.
Developing a company's Web Presence is an extensive process that involves the design and implementation of the website, the online marketing and promotion of the company and finally supporting and retaining relationships garnered through the Web Presence.
An effective web presence begins with site design, the user has to feel, that they came to the right place. The layout should not be too abstract and poetic, but direct and concrete. It must be clear and straightforward what the company is offering and selling. The text must be written without mistakes and the images must be of good quality and relevant to the context. The design of your website must be clean and easy to navigate. It must be consistent with the company logo and the rest of the companies' graphics.
The most important aspect of a website is its content. Provide valuable and visual information to your visitors, not just lots of data. You need good, fresh, credible and informative content. All the content on the website should be well-written. And it must be unique.
The website should be thorughly tested for errors and if an error does occur it should be handled gracefully. Also it has to load quickly as possible. You'll want to stay away from adding unnecessary videos and flash objects. The server your site is hosted on must be reliable and fast. A well designed site will be created with adherence to search engine optimization(SEO) guidelines, so your website ranks as high on search engines.
Your Web Presence has to translate well to the various mediums that are used to consume the internet. Tablets, Smartphones and Desktop computers all play a part and should be considered when developing a Web Presence. Your site should detect the device it is being displayed and present the correct pages seamlessly.
Nowadays a web presence must also embrace the social aspects of the internet. Companies have to adapt which means interacting with the social networks as well as creating a social network for your customers. Social networking for a company is social marketing.
Social Networking
You will need Facebook, Twitter, Yelp, LinkedIn and Google+ accounts.
Visitors to your site should be inivted to create a profile on your site or register using their favorite social network accounts.
You will need a blog that presents the latest activities and events surrounding your company and industry.
You will need a Discussion forum for keeping in touch with your customers and solving small issues that arise which might otherwise go unnoticed.
You will need a FAQ's page where customers can get quick answers to common issues that have come up in the discussion forums.
These are all social networking features geared towards supporting and retaining customers. Social networking increases a company's trustworthiness and provides a great opportunity to interact with customers.
Having an effective web presence requires a commitment to an online strategy. Websites are not a set it and forget it tool. A staple to any successful website are: fresh content, clean website design and social interaction.
Web Presence Features:
Website Design
SEO implementation
Membership
Social Network pages (Facebook, Yelp, Twitter, LinkedIn and Google+)
Mobile Device Versions (Android and iOS)
Company Bio
Executive Bio Pages
Blogs
Reviews
Discussion Forums
FAQ's pages
Plan for change
Fill out our
questionnaire
and let us get started with creating your Web Presence.